Everything Changes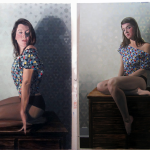 For the upcoming group show Everything Changes, at Robert Lange Studios, I have decided to make two diptychs, both using the triangle mosaic patterning. I've already finished the painting on the right and am near finished with the painting on the left. I hope to be finished with this pairing by the end of the weekend. (each 20″ x 30″, oil on panel).
No messing around in 2012!
I have been going back and forth between my home studio and studio at Redux Contemporary Art Center, making some new paintings. I am in love with primary colors and geometric quilts right now! This is just the beginning of this Triangle Quilt painting (18″ x 24″ oil on panel). To balance the craziness of the color palette and pattern, I've also started a more subdued floral (20″ x 30″ oil on panel).