Triangle Mosaic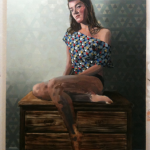 I'm pretty close to finishing my second painting inspired by Italian mosaics (Triangle Mosaic, Oil on Panel, 20″ x 30″). I still have a lot of work to do on her skin, but overall, it's starting to come together. Another painting of the same size, same subject matter, but different viewpoint, will accompany this painting for the RLS group show in May.
More Kaleidoscope Patchwork Quilts
Because the Kaleidoscope Patchwork Quilt was such a hit, I've decided to make two more! Below is a detail of what's to come…lots of triangles!