BLOG ARCHIVE
CATEGORIES
Process of an under-painting for Mirrorage
This painting is part of a series, focusing on patterns inspired by Navajo textiles and diamond shapes. In the painting, I've included two record albums that have been a huge part of 2012; Ring by Glasser and Sun by Cat Power. Coincidentally, the album cover for Glasser was created by Tauba Auerbach, who is currently one of my favorite artists. Below are photographs that document the process of the under-painting.
The Art Mag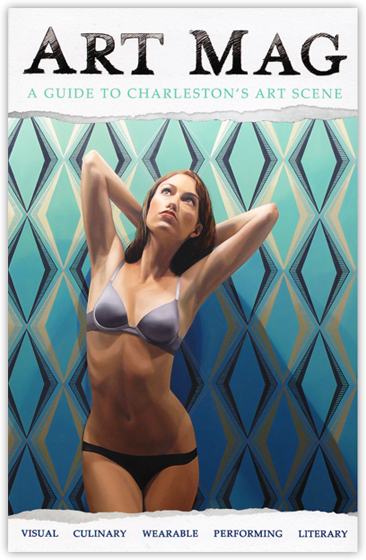 I am very honored to be featured AND on the cover of Art Mag's winter issue!
Here is a snippet from the article:
"Myers will unveil Mouthful of Diamonds this February, a technically drastic departure from her work that we've seen previously, usually based in organic, floral shapes, and flattened planes of color. This new work retains the focus on a single female figure in a room, but now features crisp geometric patterns, specifically diamonds, and a greater emphasis on perspective, rendering shapes with sharp, precise detail."
"The women are friends, colleagues, peers, family. She views each painting as an autobiographical, psychological self portrait: each individual Myers paints has helped to shape her personality, define a little bit of who she is. "
Words by Stacy Huggins
To read the full article, click here.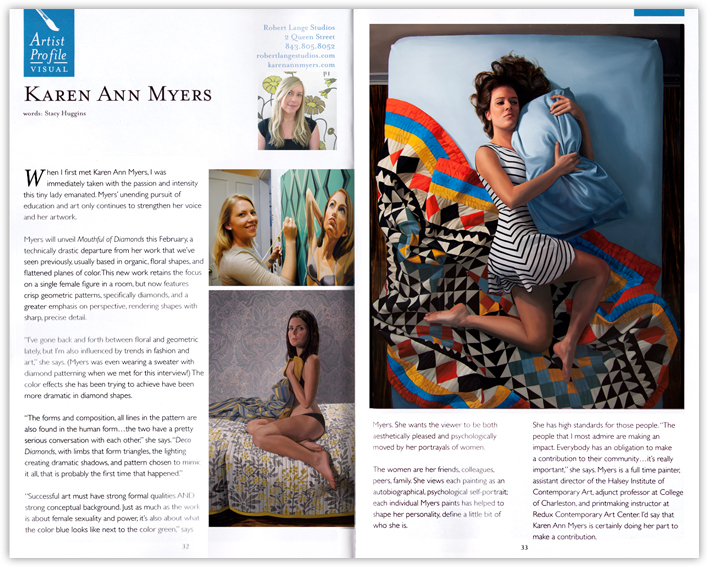 Zig Zag Blanket II
Zig Zag Blanket II is finished! Oil on panel, 16″ x 20″. Below are a few detail images.
New American Paintings Blog Feature

"Karen Ann Myers' (New American Paintings #100) series of scantily clad, young females rest on their beds, but seem unrested and uneasy. They look to the viewer in a confrontational and semi-seductive manner, as if being photographed or watched voyeuristically—thus positioning the viewer in an awkward role as the voyeur getting a glimpse into or playing an active role in the intimate space of these young women.
Her subjects have been described as "troubled figures" and "virginal lovelies," though honestly, to me, they quite poignantly and sharply depict young adults.  Isn't that what your later teenage and twenty-something years are?  Awkward, sexual, daring, shameful, richly emotional, and totally complex… and Myers captures all of this quite accurately, beautifully, and seamlessly.  There is a quietness in her compositions, despite the loudness of the geographic textiles, wooden floors, and colored walls.  And it is a pleasure to explore them all." – Ellen C. Caldwell, Los Angeles Contributor
In this feature, New American Paintings captured the step-by-step 20-day painting process behind Geo-Stripe.
Geo Stripe is Finished!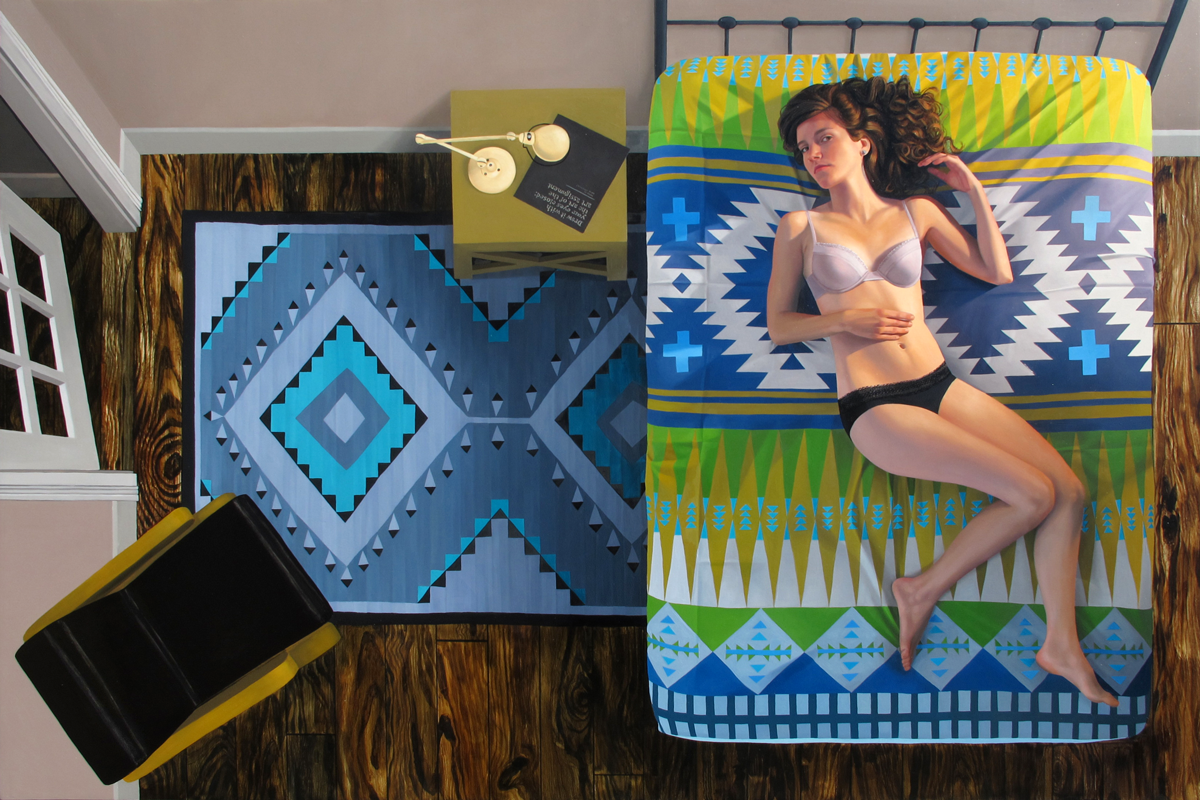 After many hours, Geo Stripe (36″ x 24″, oil on panel) is finished! In the painting, I've included Paper Monument's recent publication, entitled Draw It with Your Eyes Closed: the Art of the Art Assignment, which is currently on my nightstand. This book examines the complex and often unruly state of art education by focusing on the assignment. Bringing together hundreds of assignments, anti-assignments, and artworks from both teachers and students from a broad range of institutions, it simultaneously serves as an archive and an instigation, a teaching tool and a question mark, a critique and a tribute. It's a great read and a wonderful resource.
Here are the final process photos and a few detail images.
To view process photos from days 1 – 5, click here. To view process photos from days 6 – 8, click here.
Geo Stripe Update: Days 6 – 8
I have been tracking progress on Geo Stripe (oil on panel, 24″ x 36″)! To view the first five days, click here.
Zig Zag Blanket II
I recently obtained two really beautiful crocheted blankets from a second hand store. The first blanket was chocolate brown with bright orange and yellow stripes. It appeared in Diamond Medallion and Zig Zag Blanket. The images below are the start of Zig Zag Blanket II (oil on panel, 14″ x 18″), which features the second blanket purchased at the thrift store.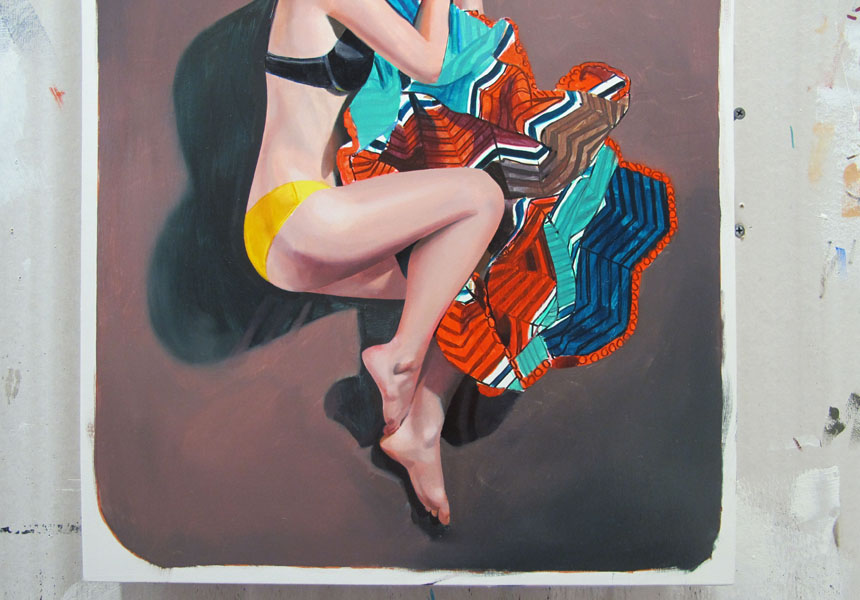 Striped Diamonds is finished!
Happy to report that Striped Diamonds is finished! This painting was created to accompany Deco Diamonds. A triptych is in the works, so stay tuned for the third painting in this series.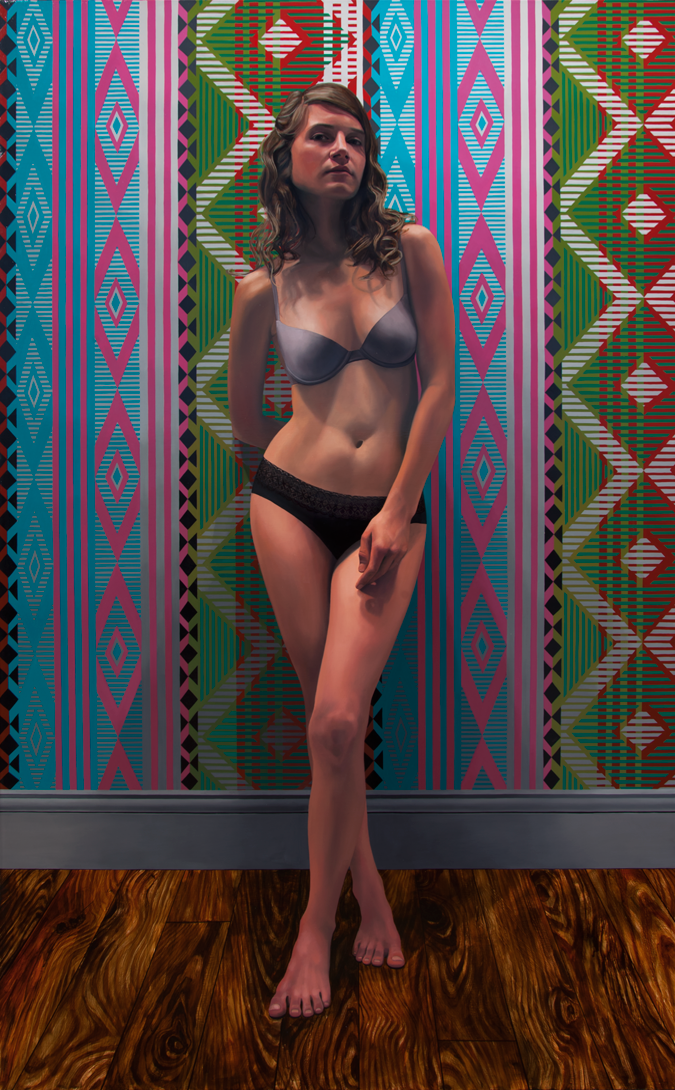 A Room of Her Own at SELU
Currently, I have 20 works (paintings, screen prints, and collages) on view at the Southeastern Louisiana University Contemporary Art Gallery, in an exhibition entitled, A Room of Her Own. The exhibition is on view through November 2, 2012. What a beautiful space! I love the sky lights!