BLOG ARCHIVE
CATEGORIES
I ♥ Michigan
When I began painting seriously, I focused mostly on self-portraiture. For the last 10 years, as a practicing artist, I have completed a self-portrait every year. These portraits are my version of a written diary. They mark a specific period in my life. They document what I was wearing, thinking, surrounding myself with, etc.
For the group show Evolution, I chose to re-visit a childhood drawing made when I was in 2nd grade. It commemorates winter in Grand Rapids, MI, where I spent the first 18 years of my life. In the 2013 painting, I pose with my beloved winter apparel (items that sadly do not get much use in my current sub-tropical home). The background pattern is a traditional Nordic design, celebrating my Finnish heritage.
The below photographs document the painting in progress.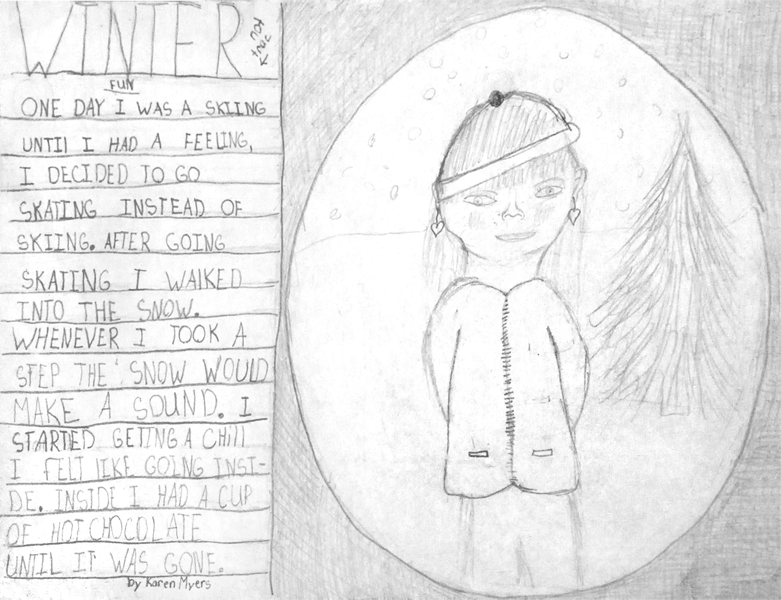 I ♥ Michigan
oil on panel
18″ x 24″
Evolution is a group show opening next month at Robert Lange Studios. The participating artists were asked to take a piece of art that they did at an early age and remake that piece in the artist's current style.
Diamond in the Rough
Honored to be on the cover of the Charleston City Paper with a great article inside!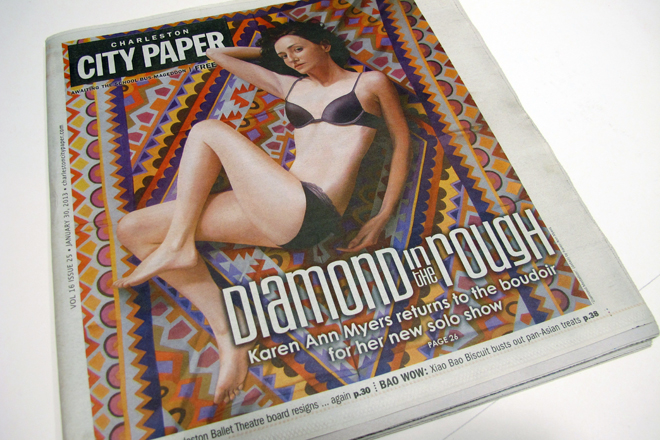 "Although Myers still paints a single self-portrait ever year "as documentation of growing and maturing," she now enlists friends as models to pose in her own bedroom. Her home studio on the Eastside is filled with aerial-view paintings of scantily clad, reclining girls wrapped in blankets or quilts, gazing out into space. Their surroundings are sparse, brightened by rugs, wallpaper, and bedding in clashing geometric prints. The women are often curled up into child-like poses, clutching their stomachs or their blankets in a protective way. There's an introspective, intimate feel to each piece, with a sexual undercurrent."
Words by: Erica Jackson Curran, Associate Editor, Charleston City Paper
Mouthful of Diamonds
It's hard to believe that after almost a year of hard work in the studio, Mouthful of Diamonds, my first solo exhibition at Robert Lange Studios, opens today. "Mouthful of Diamonds is a dramatic and engaging series of paintings that explore how geometric patterning can relate to the posing of figures within an intimate setting like the bedroom", says gallery owner Megan Lange. "Myer's unique and often meticulous painting style captures the smallest details, including individual patterns within larger patterns, creating a backdrop for the stripped-down model to interact with the space, resulting in a complex narrative."
Here's a preview of some of the paintings in the exhibition! I am also exhibiting my serigraphs alongside the paintings.