BLOG ARCHIVE
CATEGORIES
Ted Spagna is AMAZING
I've just discovered SLEEP by Ted Spagna. It's a photo book of humans in their most vulnerable state. Ted gives us a peek at ourselves in a natural state of relaxation, with no conscious pretense or posing.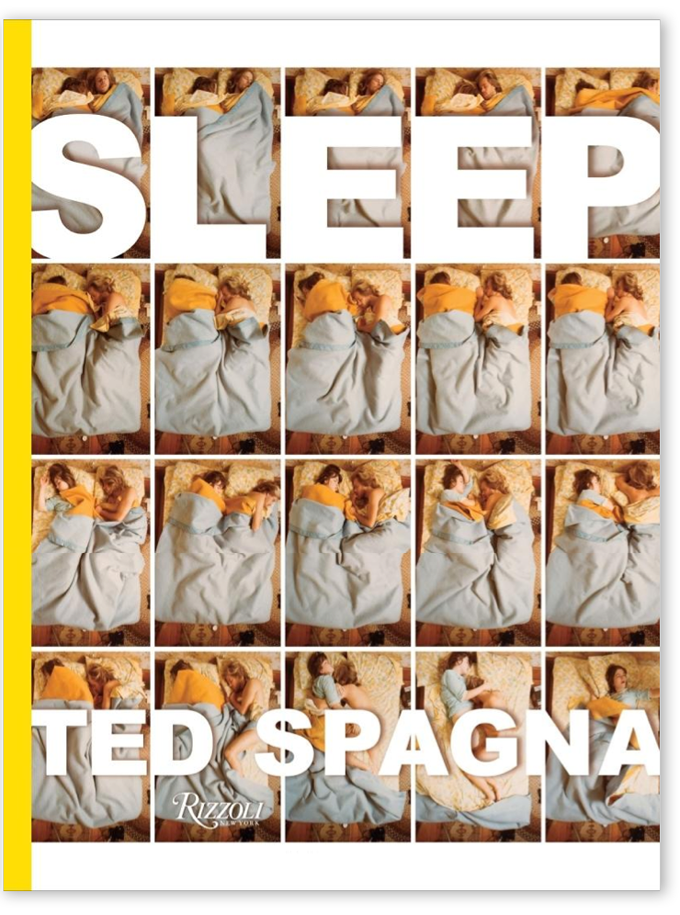 In 1975, Ted Spagna began a voyeuristic venture into "inner space," exposing the secrets of human sleep behavior by photographing intimate narratives of sleeping figures with a time-lapse camera. Taken at fixed intervals throughout the night from a bird's-eye view, and displayed in chronological order, the series of images reads like a silent film. From the erotic to the domestic, men and women alone, tender intertwined couples, and children are all psychologically and often literally naked as they dance within their sheets. Presented in brilliantly colored exposures, these sensual, cinematic images of dressed or undressed sleeping subjects depict the inherent beauty, rhythm, and organization of natural behavior.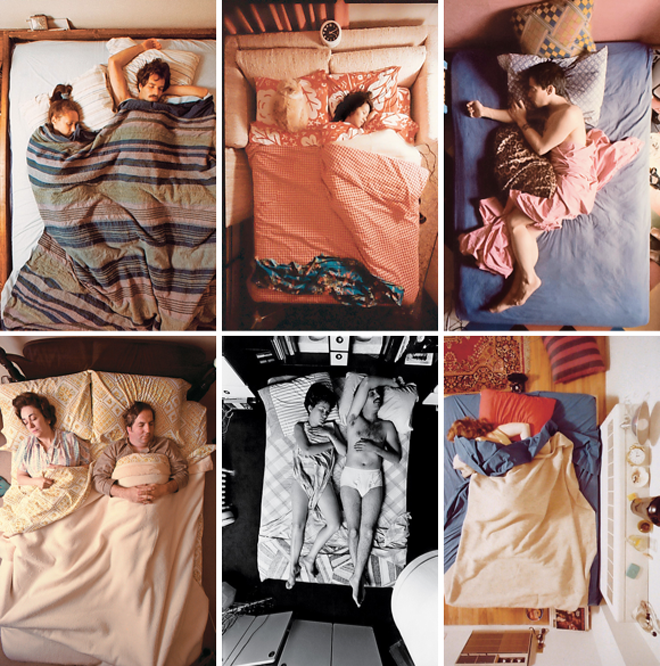 I've Started Something BIG
Earlier this summer, I started the largest painting I've ever made; 10 ft wide x 7 ft tall. Here's a sneak peek.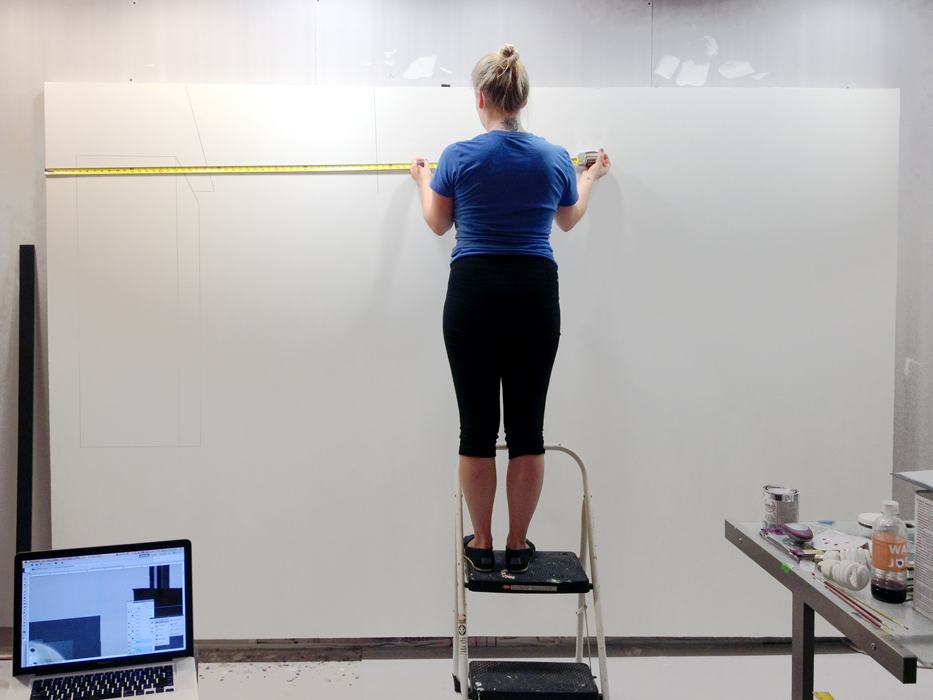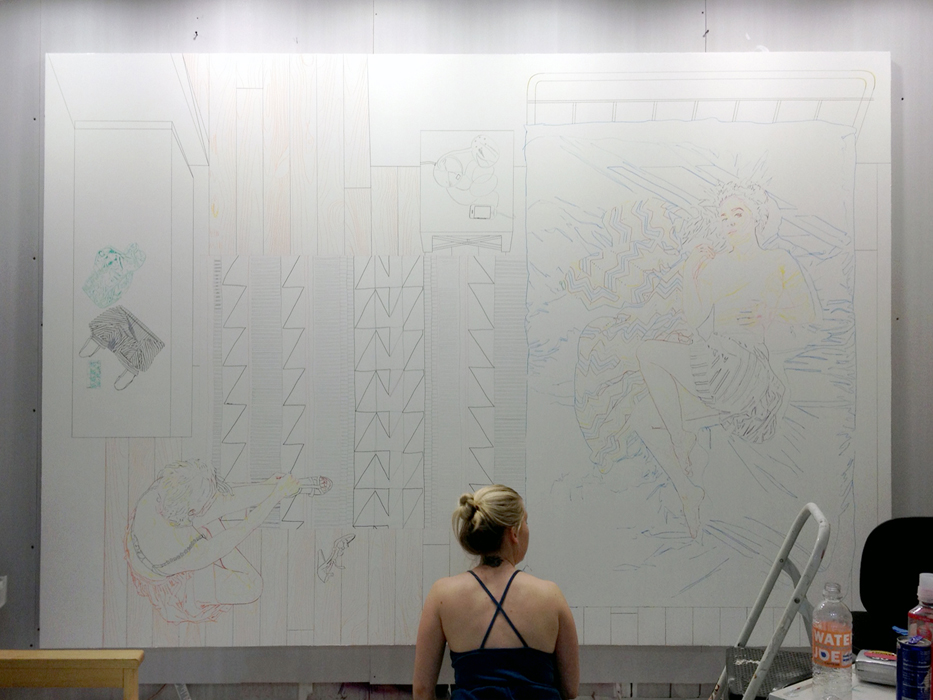 Vintage Lathem Mechanical Time Recorder
I am obsessed with time. The biggest challenge I face in my studio has always been the issue of time. I want to do so many things, I have so many ideas, stuff I want to do in a day, in a lifetime! And I just feel like there isn't enough time.
Each week, I aim to work 40+ hours in my studio (on top of my other job as Associate Director at the Halsey Institute of Contemporary Art). I have always kept track of these hours in my head. Recently, I became interested in owning a punch clock, to more accurately record time spent in the studio. I just received a wonderful gift from my friend Jeffery Whittle; a vintage Lathem mechanical time recorder!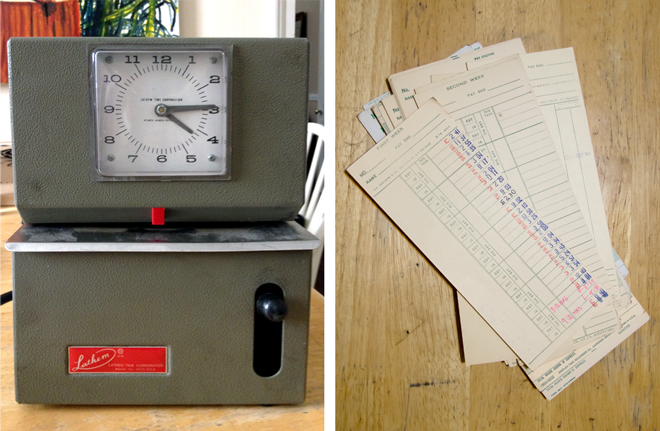 In addition to knowing how many hours I work in my studio, I'm also interested in truly knowing how long it takes me to make a painting. When the painting is finished, I plan to attach the time sheets to the painting, as a true record of the days/times the painting was created.
The punch clock is mounted at the entrance to my studio. I've had it for over two weeks and I find that I really enjoy clocking in and out as I work on Zig Zag Afghan and Triangle Rug. I am in control of my time!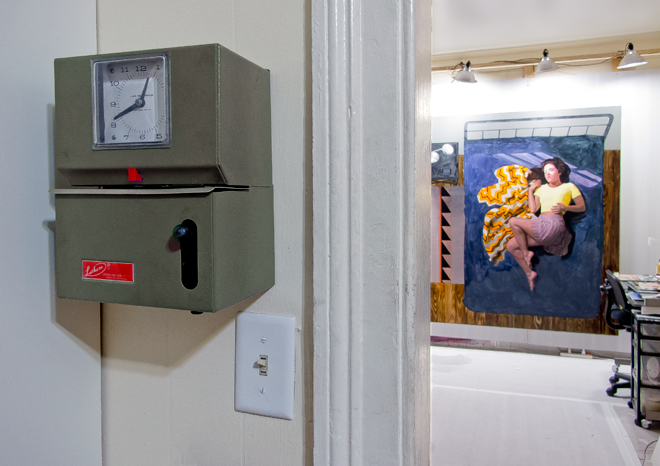 Photoshoot Extravaganza!
My bedroom, and more specifically my bed, has always been an important physical space. It's interesting to note that the women in my paintings were not captured in their own bedrooms, but were actually documented in my bed. The rooms in my paintings do not exist and are rooms that I imagined. I collage reference photographs together to create many combinations of bedrooms that hold objects that are significant to me.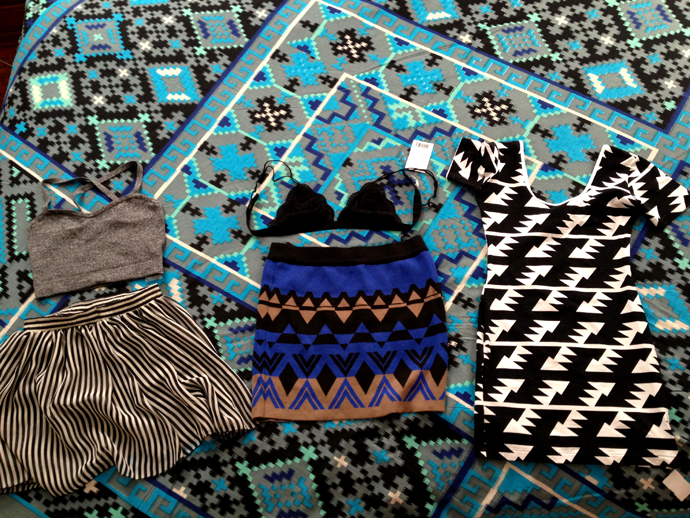 On a regular basis, I casually gather new reference materials for future paintings (you'll find me standing on tables in restaurants to capture an aerial view of an interesting chair or rug). Every couple of years, I take a break from painting to more aggressively collect new reference materials. During this time, I photograph new models, bedding, rugs and other miscellaneous items in a condensed time frame. Documentation for future paintings requires a different mind set, so I find that it's important to separate painting from research for painting.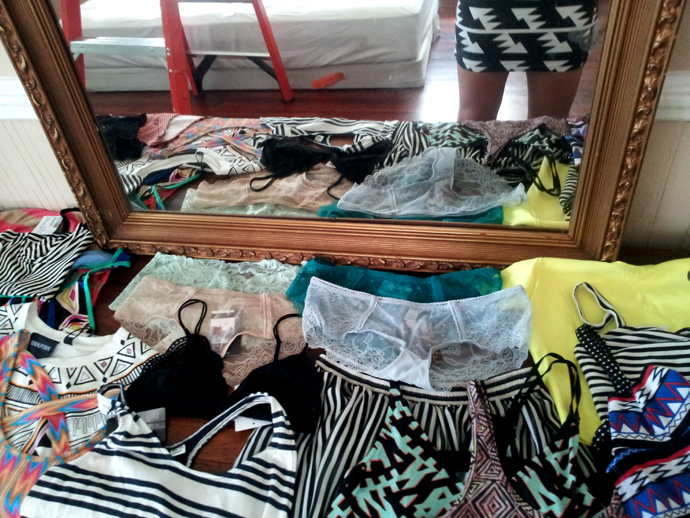 I just finished 10 photo shoots and the end result is over 1,500 photographs per shoot (that's over 15,000 photographs to sift through!). For my latest photo shoot, I had a great time selecting new patterns, colors, and textures. The models I choose always bring something fun and unexpected to include.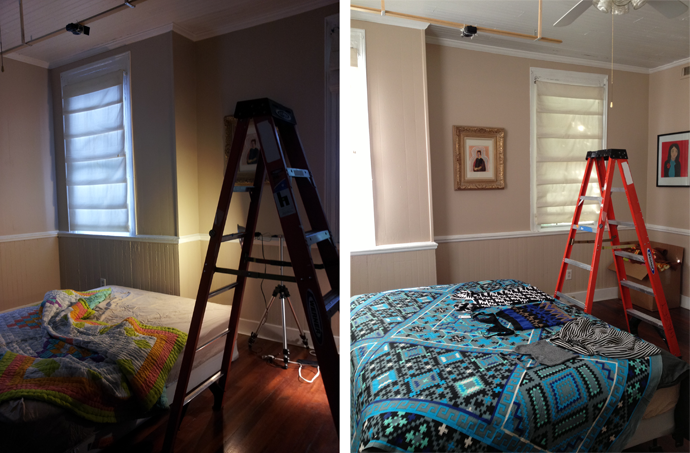 The women in my paintings are women I know personally, and I strive to represent some part of their personality. They are strong, beautiful, independent and complex. I have become interested in geometric patterns and posing the models to resemble the pattern's motif. For example, the model's limbs mimic the angles and shapes in the bedding, rugs and other ornamentation.
Screen Printing classes at Redux!
I'm really looking forward to my upcoming screen printing class at Redux Contemporary Art Center! It's hard to believe that I have been teaching screen printing classes at Redux since 2009. At a frequency of four classes per year, I'm almost at my 20th class!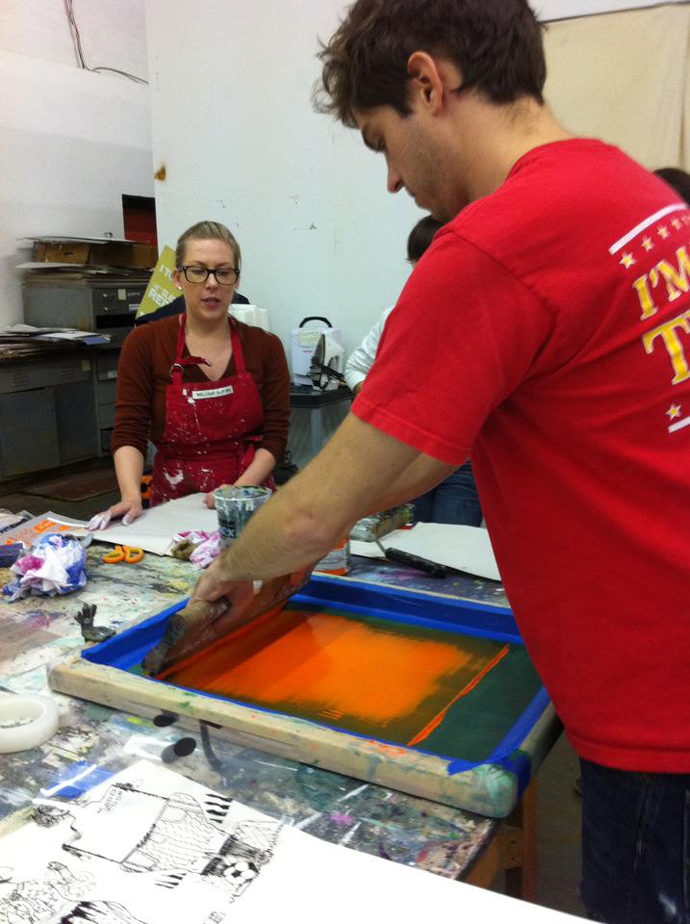 ONE-NIGHT SCREEN PRINTING WORKSHOP
When: Thursday, July 11 / 6 – 10 pm
Instructor: Karen Ann Myers
Location: Redux Contemporary Art Center
Cost: Member $80 / Non-member $100
Are you tired of seeing cool t-shirts/posters/stickers/ etc. and not knowing how to make them? Come learn the basics of screen-printing in one night. Students will learn how to emulsify screens, burn images, and print a one-color poster in four hours! No experience necessary, all materials are provided. Good time guaranteed!