BLOG ARCHIVE
CATEGORIES
Southwestern Medallion Bed & Diamond Rug is finished!
After many hours, Southwestern Medallion Bed & Diamond Rug is finished! In the painting, I've sprinkled a few objects that are important to me and will help me to remember 2012 fondly.
Blue leather purse – a thoughtful present from my boyfriend
Apartment keys – for my new-ish apartment, which I adore
Sunglasses – awesome gift from Sally Benedict Read and Lulie Martin Wallace
New American Paintings #100 – excited to be featured!
Coffee + cell phone – do I need to explain?
LOVE MY MODEL and the colors in the bedding
This painting will be a part of the group exhibition entitled Narrative Fragments, at Quidley & Company Fine Art in Boston, MA. The exhibition will be on view September 22 – October 22, 2012.
Lost in the details
I am always trying to challenge myself to paint things that are new and difficult, which hopefully makes me a better painter with each painting I create. I approach painting like a competition (me vs. the painting), and I conquer the painting by successfully rendering the objects inside. Today, I have met my match. The beautiful afghan in the painting Diamond Medallion and Zig Zag Blanket has defeated me! Over the weekend, I began the second layer of details. Typically, I am able to create a system for painting an area fairly quickly and then it will take a couple days to paint each object within the painting. After nearly 40 hours on the afghan, I'm not even half way to its completion. At the rate I'm going, I probably could have actually crocheted the 3D version. Based on the surface area covered per hour, my guess is that I will be finished with the blanket by the end of the week.
Visit to the Gamblin Paint Factory
This past weekend, I had the privilege of visiting the Gamblin Paint Factory in Portland, OR. As a user of Gamblin oil paint for over 10 years, this was a dream come true.
Nine months ago, I received an email from Pete Cole, the President of the company, notifying me that I had won the "golden ticket", completely Willy Wonka style. This prize included round-trip airfare to Portland, hotel accommodations, bicycle tour of the city, opportunity to meet Robert Gamblin (founder and master paint maker), tour the paint factory while the color of my choice was being made and receive $500 in Gamblin materials. HOLY MOLY!
Below are some photographs from my trip, which was absolutely amazing and inspiring. I have been a long-time fan of Robert Gamblin and his paint, and this trip further confirmed why they are so awesome. Gamblin paints are created with the highest quality materials and are hand-made by a small, loving staff (only 20 people make all that paint!!!).
It was such a wonderful experience to get to know all the people behind the paint and the brand. Robert Gamblin is a color and paint master. It was an honor to meet him and learn more about how the materials I use every day are created.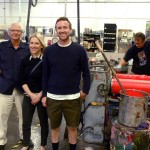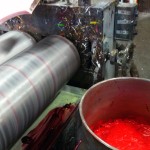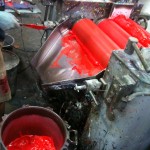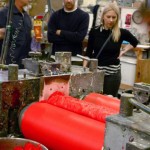 New American Paintings and Narrative Fragments
I was recently invited to participate in the group exhibition entitled Narrative Fragments, at Quidley & Company Fine Art in Boston, MA. The exhibition will be on view September 22 – October 22, 2012. 
Narrative Fragments, includes approximately 30 paintings by 20 artists who convey narrative content in their work through a synthesis of representational subject matter and the materiality and application of their medium. Narrative art is at that attempts to tell a story, whether true or fictitious. Much of Western art has been narrative, depicting stories from religion, myth, history and literature. We are familiar with the idea that a story should have a beginning, middle and end. The crucial dilemma for artists is how to convey complex figurative works that depict grand story arcs, while compressing a multitude of thoughts, nuance, ideas and emotions into a static singular image.
In the painting, I decided to place New American Paintings Issue #100 on the nightstand. I thought this was a perfect opportunity to highlight the publication I'm featured in, especially since the painting will be exhibited in Boston (where New American Paintings is published). This painting also represents a sort of homecoming for my work, since it has been almost four years since I have lived in Boston.