BLOG ARCHIVE
CATEGORIES
Afghan Blanket Heaven
As a person without a car, I rarely have the opportunity to take advantage of the thrift stores around me.
On the way home from my residency at the Georgia College Museum, I held onto my rental car for an extra day to explore every (literally EVERY) thrift store on the way. After 10 hours and 20+ stores, I picked up these amazing blankets, sheets, and tapestries!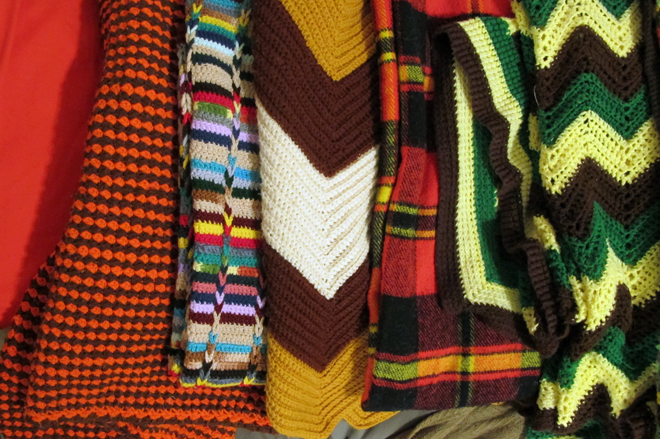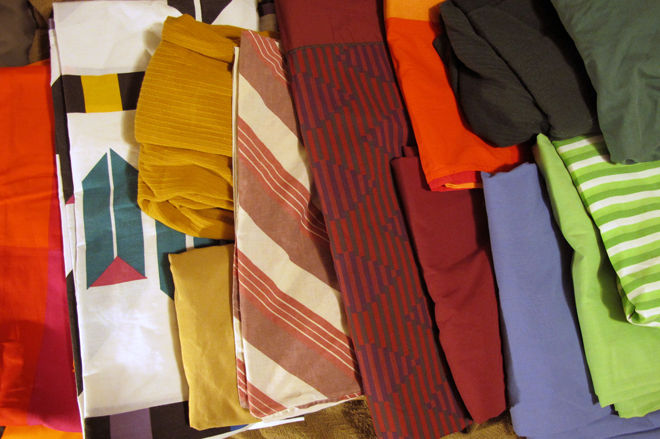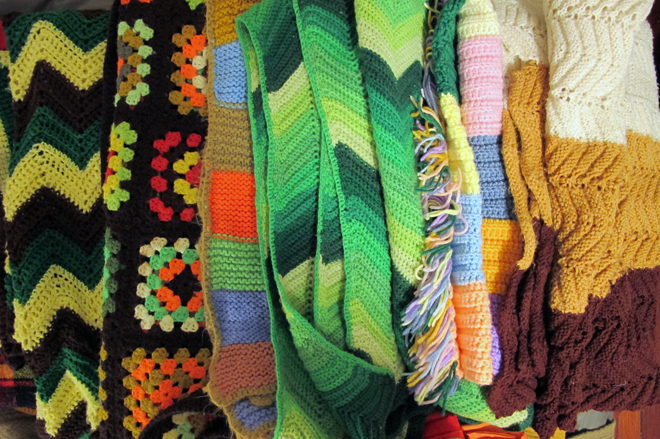 Solo exhibition at the Georgia College Museum
On view: October 2 – December 13, 2013
"Karen Ann Myers' paintings explore the challenges of contemporary femininity by presenting slender and youthful beauties lounging about in well-decorated bedrooms." said exhibition curator Shannon Morris. "Their idealism is enforced by her beautiful and precise rendering style that allows the viewer to peer into the dream-like worlds of these subjects, whose bodies are perfectly posed within physical spaces that are designed by the artist's imagination. Reinforcing the idea of perfection and its demands upon young females, the subjects' bedrooms are appropriately embellished with carefully curated patterns, complimentary colors and minimal furnishings."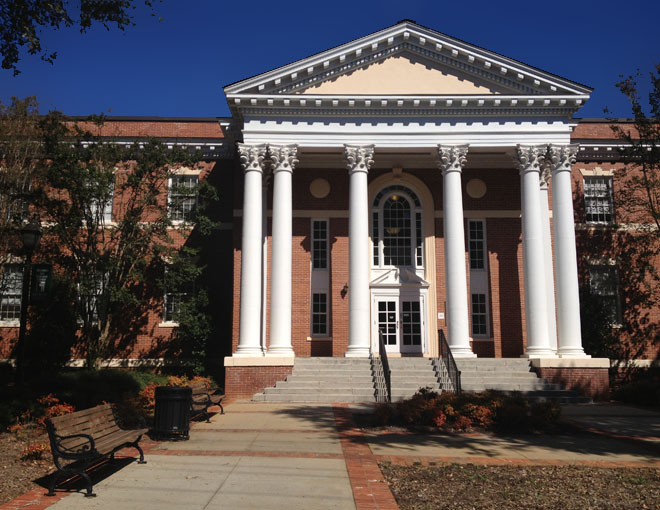 Timecards for Striped Diamonds II
I love tracking my hours for each painting with my new time recorder. Below are the time sheets for Striped Diamonds II, which took 235 hours to paint!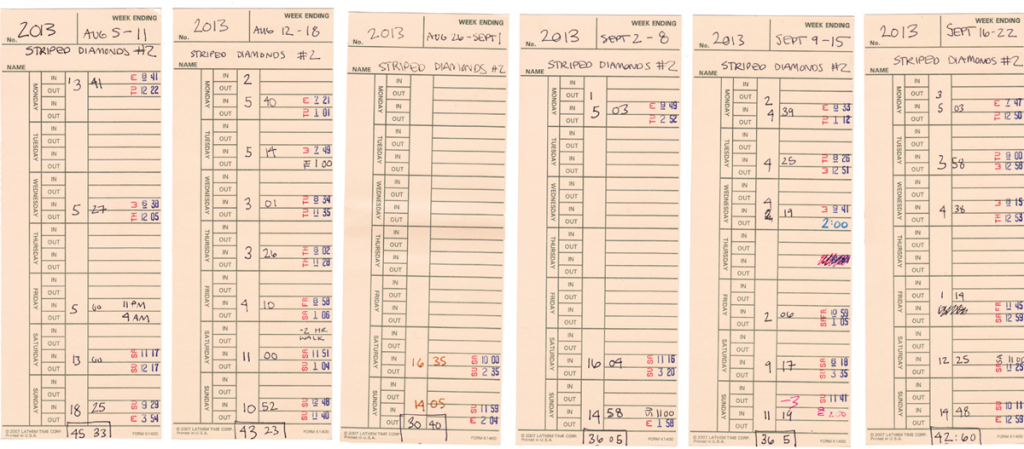 Palettes
A common criticism in graduate school was that a student's palettes were more interesting than their paintings. Well, I'd like to think that an artist's palette is attractive, but for different reasons. Looking at a painter's palette can offer many clues as to how the painting was created.
A significant amount of my studio time is spent mixing colors. For every eight hour painting session, at least one of those hours is completely devoted to meticulously preparing colors. I do not do much mixing on the canvas, so I must have as many colors ready ahead of time. When it comes time to apply the paint to the canvas, I'm free from interruptions and find that the actual painting comes much easier.
Below are nine palettes for the painting Striped Diamonds II.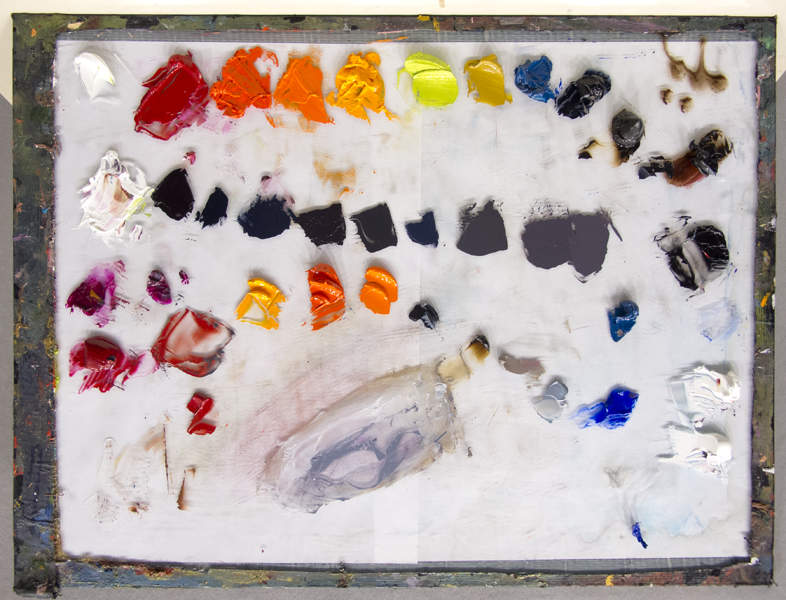 Striped Diamonds II
Striped Diamonds II (oil on canvas, 60″ x 36″) is finished! It's hard to believe that it's almost been a year since I finished the first Striped Diamonds!
Click on the thumbnails for details.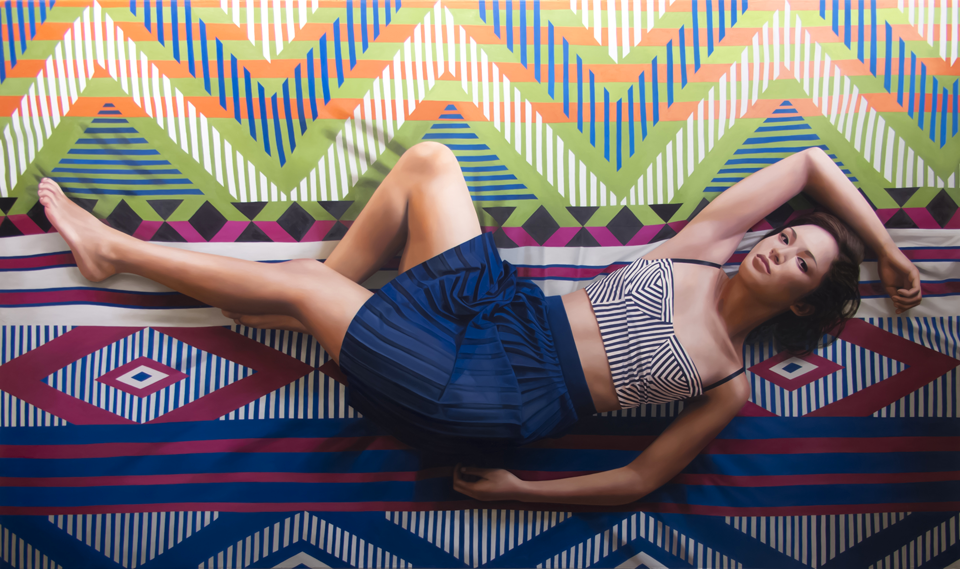 Class visit to the gallery
Coastal Carolina University students take a break from the classroom for a visit to the Rebecca Randall Gallery!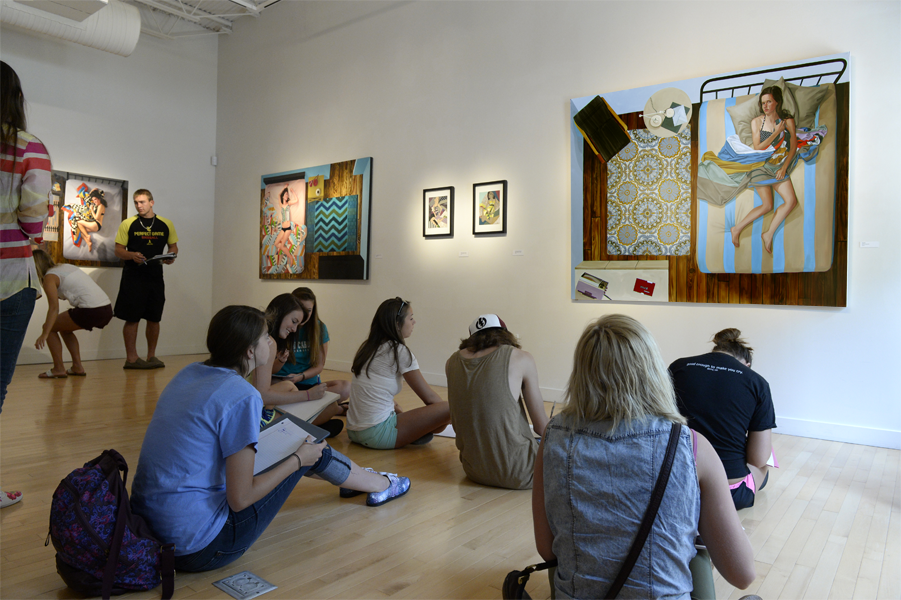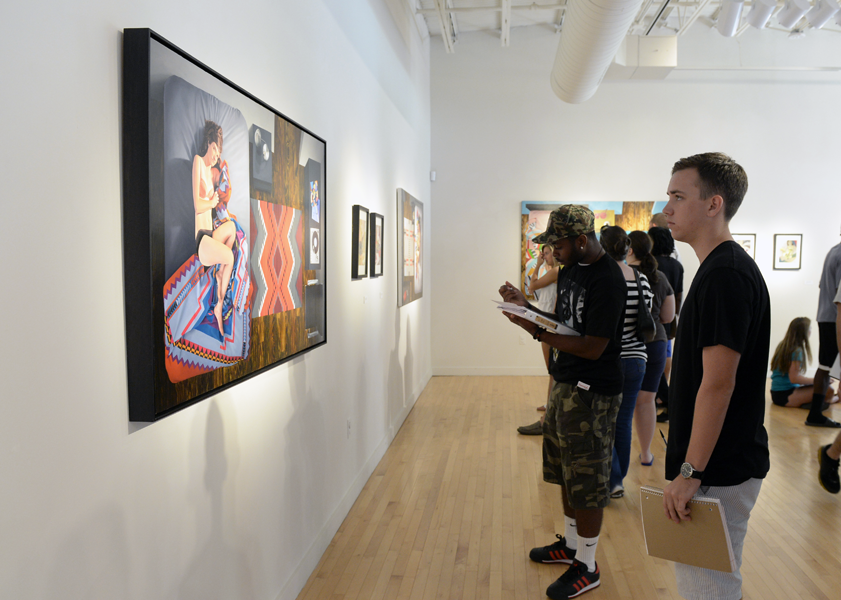 Carolina Arts
Check out this month's issue of Carolina Arts. Turn to page 13 for a feature on my exhibition at the Rebecca Randall Gallery.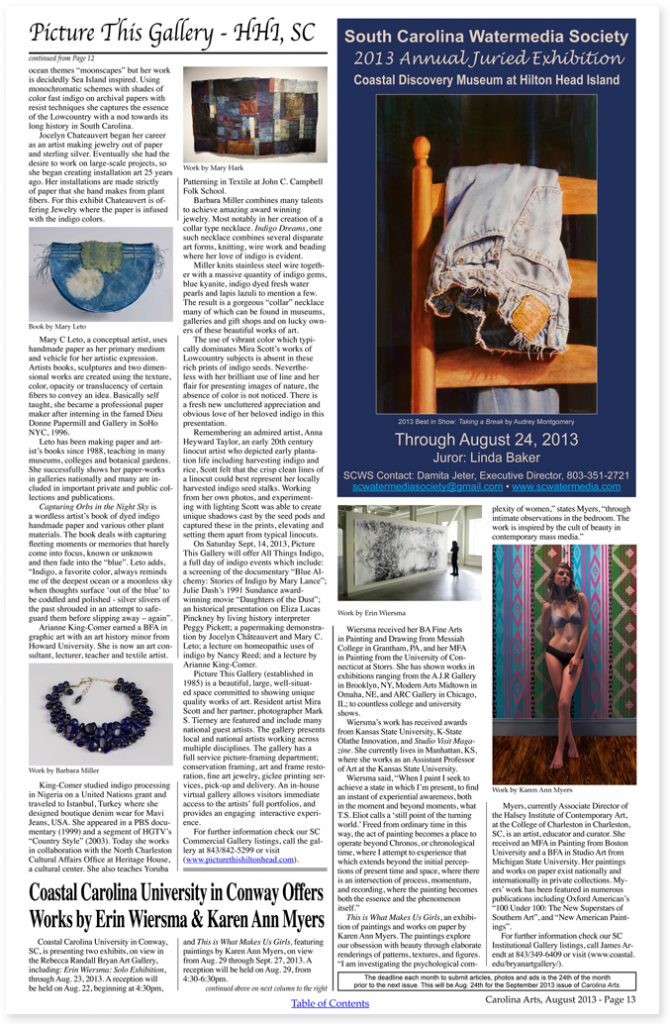 This is What Makes us Girls
I've just returned from a wonderful couple of days at Coastal Carolina University. Thanks to everyone that came out for the opening reception and artist talk. Below are a few images of the exhibition, entitled This is What Makes us Girls, currently on view at the Rebecca Randall Bryan Gallery through September 27.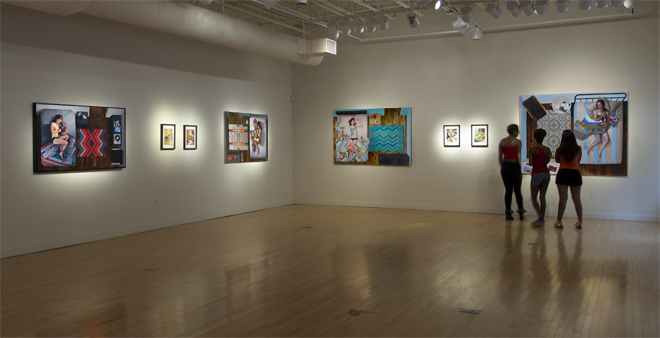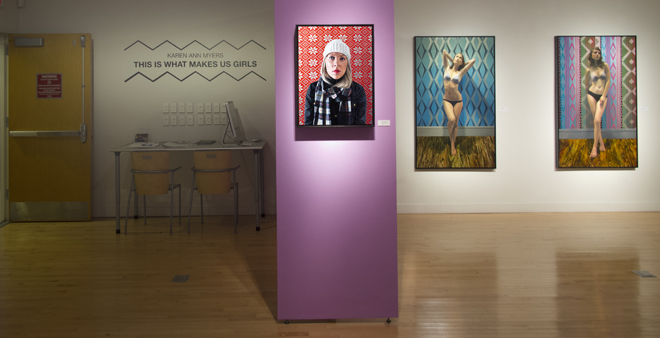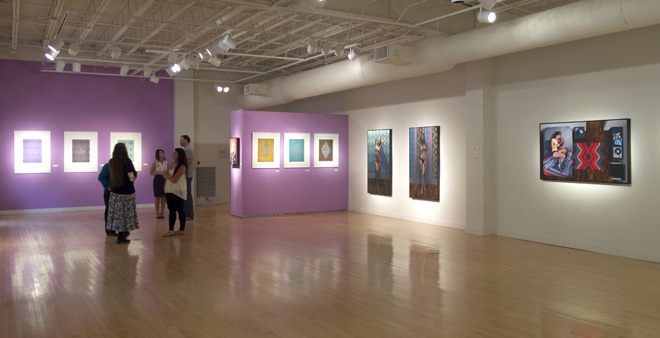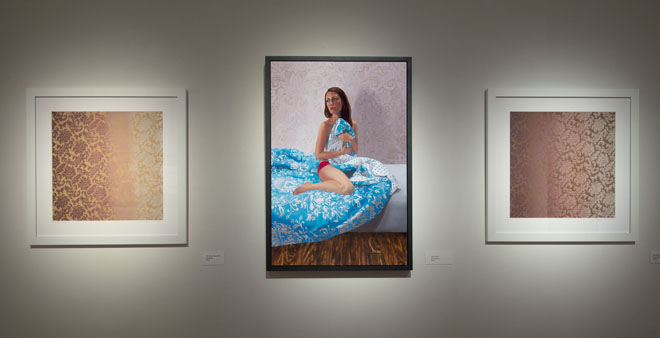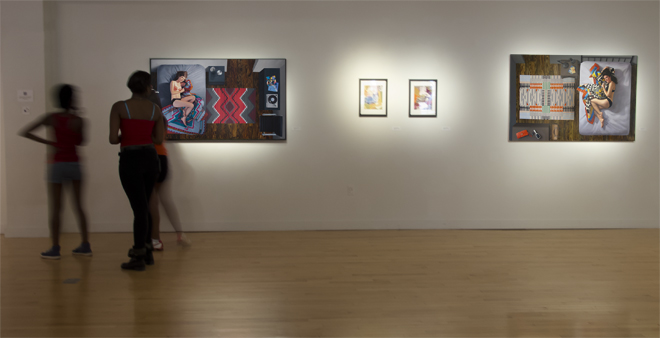 Panel Prep!
A lot of time goes into making my painting surfaces perfect. After each coat of gesso is applied, I sand with an orbital sander. After 3-5 coats of gesso, two layers of oil ground are applied with a trowel.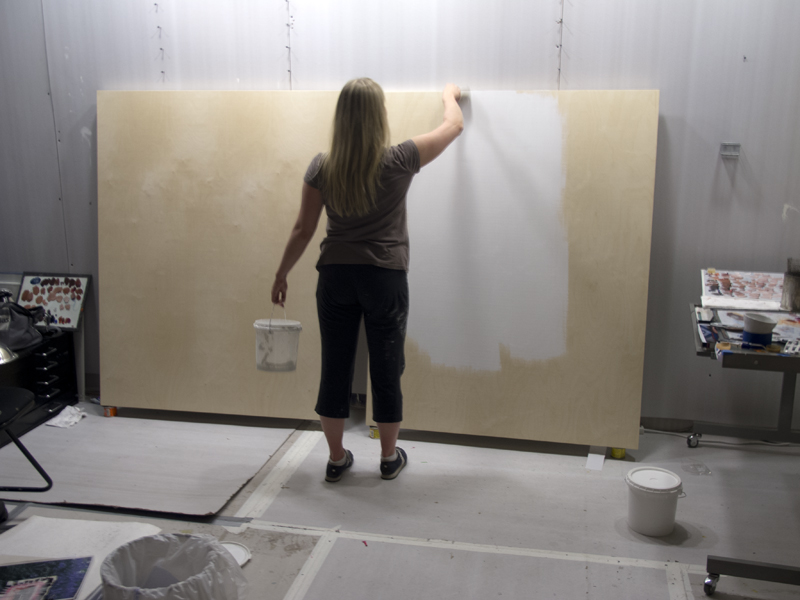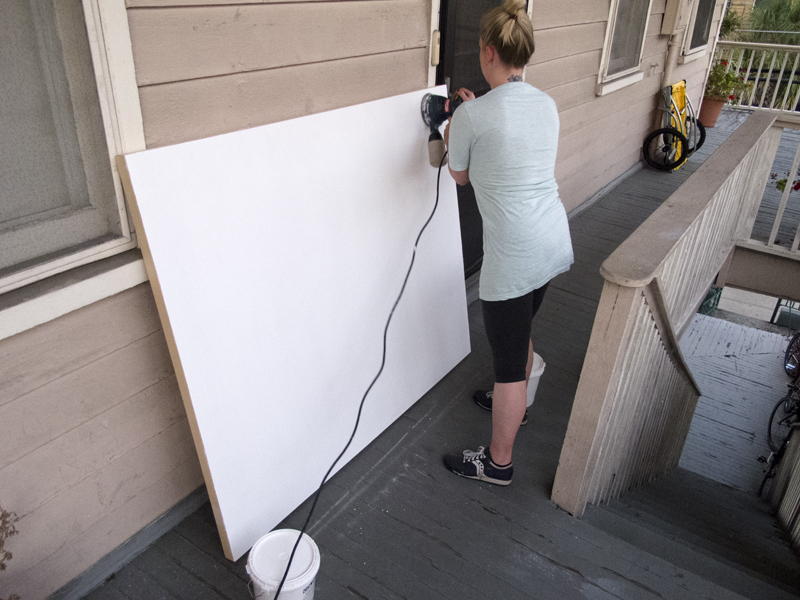 Creative Transportation
As a person without a car, I've finally discovered a way to get those huge paint panels back to the studio! Bike trailers (for carting around children) make the best art supply carriers.